I am absolutely...EMPHATICALLY...IN LOVE...with printables. I cannot even tell you how a simple piece of paper has changed my life!!!
It's this whole new world you never knew existed.
Like once you're in, you are in this secret little cool club. A club you never wanna leave. Every time you come to the club, you feel ALIVE, ENERGIZED, PASSIONATE...yes, all because of a simple piece of paper!
It didn't start out for me falling in love with printables though. I had a designer and it was more about saving money than anything. She was making mistakes, so there was a lot of back and forth, and it was just so expensive to have her create them.
I got in the program and started figuring it out. Little by little, one thing at a time.
As I started creating boxes, shapes, patterns, overlaying text, and manipulating the documents to do what I wanted them to do, I felt in control.
It was like a high. Going into a world, knowing nothing about it and at the end of 30 minutes or an hour, you've won! You got the upper hand. You created this perfect masterpiece that no one else in the WORLD could create but YOU.
It's all your own. A design, that is so uniquely inherent to YOU.
Your thoughts.
Your inspirations.
Your beliefs and feelings.
All right there on the page.
You control your own little piece of the world.
Then, you release those beautiful masterpieces, like little birds, you send them out into the world.
And to your surprise, people love them. They start to get hooked. They can't get enough.
Suddenly, they are BEGGING for more! Asking you to create more and more and more designs that only YOU can do!
You feel special and unique. It's validation that people like you. They like your stuff.
You realize you're in love.
You're in love with creating something, with doing something that only YOU can do.
You're in love with helping others.
You're in love with bringing more beauty into the world. With inspiring others. Bringing beauty into THEIR lives.
You're just in love. You can't help it. And there's no going back. You can't leave this new world, this club now. It means so much to you.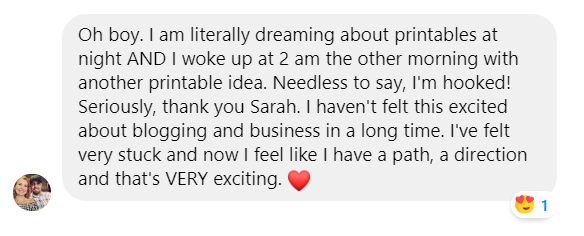 The more you do it, the happier you are. The more FREE you feel, the more you're able to express yourself in a way that others understand. And people begin throwing MONEY at you.
Woah...hold the phone. Wait just a cottin' pickin' minute.
People will PAY me for this???
REALLY?! You serious!
It's the truth. I make nearly $3 MILLION dollars a year in my Shopify store, yep, you guessed it, selling PRINTABLES!
Printables I create ONE time and they sell over and over and over and over again.
I tell you, I have the best job in the world. Nothing else can ever compare to it. I get to be wholly and fully myself, bringing beauty to others, AND pay all my bills at the same time.
No more hurting for money as a single mom. No more telling my kids they can't have something at the store. No more fighting and busting my butt to earn an income on my own to make my family's life better.
If I want more income, I simply turn on my computer, create a new printable, put it in my Shopify store, and tell others I put it in there. It's amazing. It's one of the coolest things EVER.
It means SO much to me. This path that God brought me on. A path to create my dream and now teach others how to do the same thing. How to create printables and make a business out of it!
Ohhhhh you're gonna love it!
You're gonna fall in love with printables just as I did. I know you will.