Goal 1: Get To 50,000 Pageviews Within 3 Months
These are all the exact steps I took, how long it took me, and my stats along the way so you can replicate exactly what I did from day 1 to grow my business into the platform it is today!
1. Post every day (or as much as you can!)
Post an article that is 700 words at minimum with good pictures to make Google happy (1,000-2,000 word articles are best). Your post MUST have good pictures. Think of a magazine. You want THOSE pictures to represent your brand in a unique way to set you apart from everyone else.
Here's a great question I received regarding my advice of posting every day from another course member:
"Writing a post every day is something I've heard is outdated advice- that is something that worked a few years ago, but that now the best way to get traffic is write longer more detailed posts instead of churning out more simple posts."

Here's the thing, my advice doesn't go out of style. Most of what everyone else is teaching DOES. They all chase "shiny". Let them do what they want, but if you want a blog that will rank well with Google and you want to draw in an audience, you need to start giving a lot of content.
Your content needs to be unique and different, not run of the mill samesie stuff you see everywhere else.

ALSO, when you start writing every day, you do two things:
One, you start establishing a habit. It's REALLY hard when you've gone 2 years of writing SOMEthing every single day to just stop. And we all can agree that the best way to gain traffic and notoriety is through being consistent.
We often lack the stamina and follow through, and writing every day, provides us that habit that we will then NEVER break and will lead us to higher heights than you can ever imagine.
Second, how do you REALLY know what your audience wants unless you test it? For those people, taking 10 hours to write one dang post, it's LUDICROUS!!!! You spend all that time, perfecting things, and you LOSE YOUR VOICE!!!!
Listen, there AIN'T no SEO'd masterpiece in the world that SOUNDS genuine...that flows. You have to WRITE like you talk, so I'm sorry, screw the SEO for now! Don't even pay attention to it. I've NEVER, to this day, SEO'd my posts outside of using the Yoast SEO plug in and I have a DA score of 59.
DA score = Domain Authority (the score that tells you how much of an authority your site is. Higher DA score = more traffic from Google).
You cannot, listen...you CANNOT TRICK Google. They are too smart! Don't even try. Meanwhile, you need to connect to your audience.
I know a big blogger who has an email list of 1 million subscribers. My list "barely" (in comparison to her) has 52k as of the time I'm writing this. Yet, the other blogger has "only" (in comparison to me) made $5 million in 8 years blogging. Whereas I make $3 million/year. And before I started doing courses, I worked 9-10 hours a week, my assistants work a combined total of about 7-10 hours a week. The other blogger works 60 hours a week HERSELF and has over TWENTY assistants. So, her profits are GONE!!!!!!!!!!! I mean, that's a LOTTA help. So I would venture to say that focusing on CONVERSION is the best route to go.
How do you get conversion? It is NOT by being PERFECT!!!!!!!
NO ONE can RELATE to PERFECT!!! No one IS perfect.
They relate to you being yourself.
And if you get the traffic there, if people are coming to you TO connect to you, Google will AUTOMATICALLY follow suit and start sending you traffic!
Listen to me....SEO is shiny! Okay. It's one of those things that is just shiny. Do NOT focus on it. Yes, do your best to SEO things. Fine. But don't spend 10 hours on a perfectly SEO'd post so you can only create 10 posts a YEAR because that's all you have time to do and expect to get traffic. You may get a little bit, but it's far better to have 300 posts where you CONNECT to your audience than it is to have 10 SEO'd posts.
After a good 100 posts, you will start to understand EXACTLY what your audience wants from you. Meanwhile, your 10 posts a year SEO peers, won't have a clue WHAT to write about because they don't have the experience you do. They don't know what resonates. They're still running in circles trying to figure it out. Believe me when I say, I have good friends who go the wrong way and I see them paying for it, but they're too stubborn to admit it and won't change. Don't be like that!
2. Install Genesis and a child theme
Genesis is important to have because it has fantastic SEO built right in. You automatically get those favors and are on Google's good side right away, which gets you traffic, affects your Alexa score, and in turn gets you more sponsors faster. For child themes, you can pick whichever one you really like. I like to go through Restored316.
You must have a parent and a child theme if you want to earn money from blogging. It's just one of those things that are standard, run-of-the-mill, things everyone has. I do NOT suggest getting a free theme. That's a great way to get hacked! If you'd like more information on what parent/framework themes and child themes are, here's a more in-depth answer.
3. Promote each post on Facebook, Pinterest, and Twitter
You can set up an automatic Twitter post every day where your new post goes live. The plug-in is called, Revive Old Post by Themeisle. This is an easy way to set your Twitter on auto-pilot while you work on building the other platforms.
Personally, I didn't find Twitter helpful to my business at all (it was a waste of time for me). It can work for some people, but for me it didn't (think about where your audience in particular hangs out), so I would focus time on Facebook and Pinterest in the beginning more and let Twitter run on auto-pilot with the plug in. :)

To learn Pinterest as a new blogger, here's one of my friends Pinterest Playbooks on it and it's fantastic.
4. Get on good Pinterest group boards
A little heads up as of 2019: your OWN boards are more valuable now than group boards, but it's still a good idea to get on group boards, especially when you're just starting.
Go to your favorite bloggers and bloggers in your niche and look at their Pinterest accounts. Which boards are the ones getting them a good amount of repins? Those are the boards you want to be on.
There is also a Facebook page called, Pinterest Collaborative Boards, that you can join and get on group boards that way.
Lastly, you can get on group boards by visiting PinGroupie.com, finding the boards you want to join and following the directions in the descriptions of those boards. This does take work and many of the board owners you contact will not even respond, but your persistence in this area will pay off over time, especially as you grow your Pinterest account!
On Pinterest, be sure to focus on followers, not traffic when you're barely starting. The more followers you get, over time, the more your traffic will soar!
5. Facebook: Set up a page and post 3 times a day
1 post of your own, 1 post of someone else's (that is a popular post), and 1 post that is a funny quote or question to draw in engagement from your audience.
6. Study bloggers in your niche who get 100,000 pageviews
You can compare pageviews on SimilarWeb. While the stats are not exact, it does give a great idea of some valuable information. All you do is multiply the visits by the page views to get the total.
Study HOW they are getting traffic.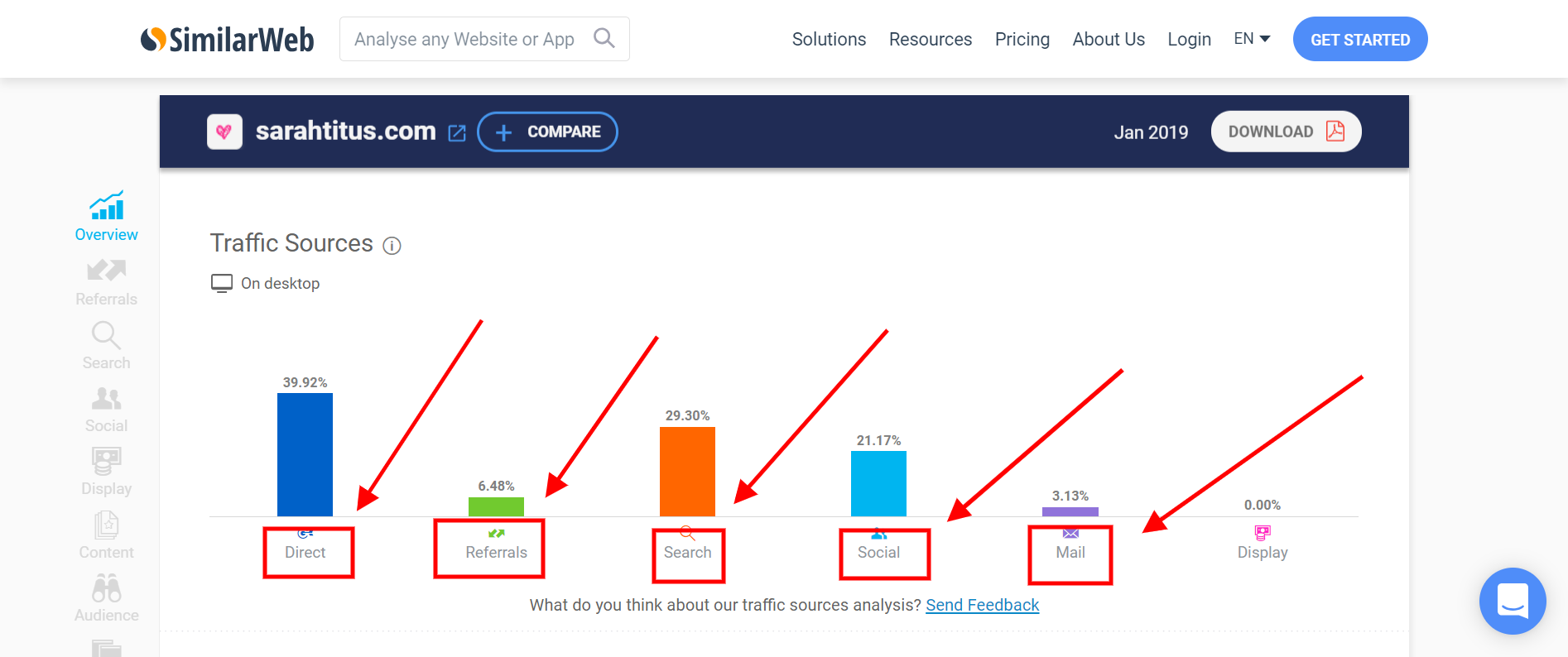 What social media platforms are they using. How are they engaging with their audience. What do they say is the best way to get traffic. What posts of theirs are popular. Then test your theories on your own site.
Keep spreadsheets of their monthly stats (of social media platforms and blogging traffic) in separate Google docs. This is something I have my assistant do for me now, but every month, she goes in and pulls all those stats for me.
Here's an example of blogging stats and how I do mine: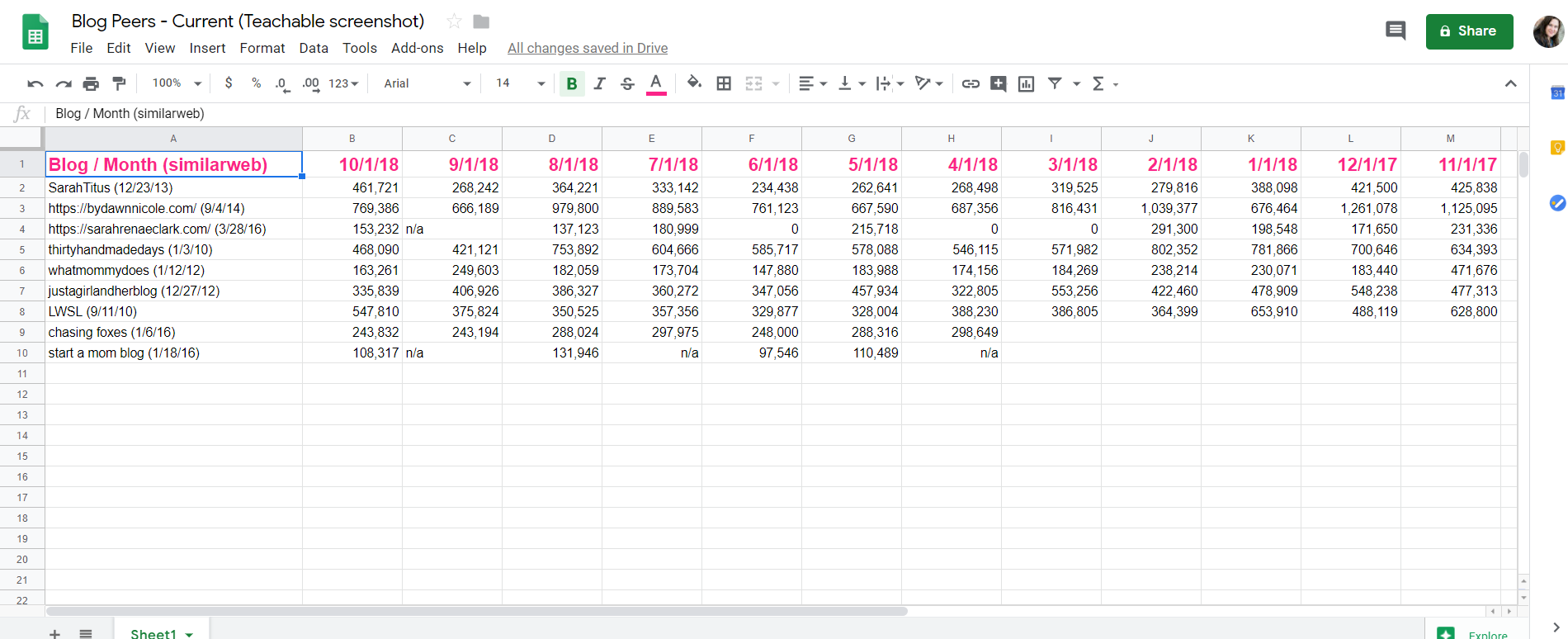 In parenthesis next to their name, I put the date they started blogging. It's important to compare where you are in your growth to where they were at the same time in their growth journey.
7. Make your navigation bar extremely detailed
This makes it look like you're not a new blogger. People want to follow someone established. Even putting single posts in your navigation bar to start is okay, as long as it's relevant, helpful, and makes the site look FULL.
8. Set up Adsense
Once you hit 50,000 pageviews in traffic, you are good to go set up Adsense ads and put a couple of ads in your sidebar. Be sure to follow the rules and know how many ads you are allowed to have on one page, per banner type. Also, set up channels. Channels will ultimately make you a LOT more money because you put the advertisers in a position of a bidding war for that space.
It opens up more competition for them, thus you get paid a higher dollar amount for each ad that is shown on your site!
Here's a video on YouTube that shows you step-by-step how to set up a new Google AdSense account.
And here's another video on YouTube that teaches you how to set up channels.

9. Tell ALL your friends
Tell your friends, co-workers, people you meet in passing, tell everyone about your blog.
When I first started blogging, I was still making my full-time living on ebay. So, I bought a bunch of business cards, by the thousands because I sold thousands of items on ebay and I would put a business card in each sale, along with a small free gift.
I do not know if that ever helped or not, but I do know that the curiosity alone would make someone want to check it out and I did grow very fast in those months. Ultimately, there's just no way of testing the return on investment, but it was one more FREE way I could get my site in front of people (outside of the extremely cheap business cards I picked up on VistaPrint).
10. Go to my resource page in this course and check out all the recommendations
There are plug-ins, recommended learning tools, and much more. While you won't need all the information now, keep it close, because it will become a great resource to you as you do go through the different sections of this course.
11. Create an editorial calendar
You can find month by month free printable calendars here. Put in all the posts you want to do and how often in the boxes. There is plenty of room to write in the boxes and the printables suck up very little ink.
Once they are scheduled, I circle the date and write in the time that they are scheduled. For me, I schedule my posts to go live at 6 am. On the days I do not post, I put a big X in the box. This way, by looking at my editorial calendar, I know what I'm going to write about and I can work ahead, so that I'm not flustered and behind, trying to post for the day.
Having an editorial calendar also helps you keep your posts rounded. I run a lifestyle blog, so I need to make sure I don't have two parenting posts next to each other for example. They need to be spread out.
For you, that may mean something different, but having a schedule will definitely help you not be so stressed out.
Remember that consistency in blogging is absolutely KEY. It brings trust to your site. People know they can count on you.
I like to fill out 3-6 months worth of calendars at a time, so that I know what I'm posting on for the next 3-6 months, and I try to schedule as much as I can ahead of time. This way, if I'm behind or miss a day, it's okay, because I have my posts already scheduled.